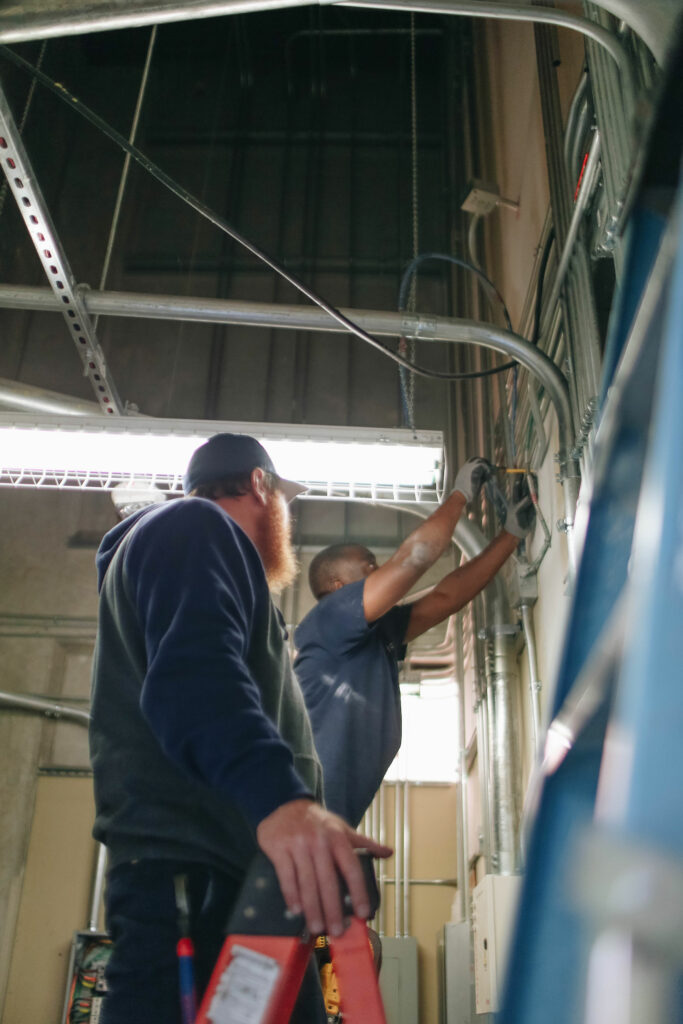 Houston-Area Businesses Trust Right Touch Commercial Electricians
We believe your commercial electrician should make it easy to get electrical contracting projects done on time and on budget. Right Touch Electrical works with commercial clients ranging from multi-site retail businesses to general contractors and small businesses. We don't look for a quick sale. Instead, we focus on building long-term service client relationships. Discover why we're your commercial electrician Houston and a trusted resource for all your electrical services.
Call Right Touch Electrical at (281) 407-6199.
Commercial electrical installations
Whether it's setting up and wiring essential equipment or conducting thorough inspections of electrical panels, our team has earned the trust of businesses for specialized electrical service needs.
Houston Commercial electricians you can trust for:
Troubleshooting electrical outages
Commercial lighting fixtures
High-voltage connections
Media displays
Data lines & networks
Specialized equipment & machinery
Low voltage lines and outlets
Temporary power solutions
Motor control circuits
Our lifetime workmanship guarantee
Your business depends on durable, long-lasting and reliable electrical solutions. Unfortunately, many electricians claim they can handle commercial-grade work when the truth is most simply treat your business the way they treat residential customers. That's unacceptable.
Our technicians regularly undergo professional training. We believe it's mission-critical to ensure they are current with law and code changes and familiar with the latest electrical technology. That's how we can offer a 100% satisfaction guarantee on all completed work and a lifetime workmanship guarantee for your complete peace of mind.
Right Touch Electrical is prepared to handle your specific commercial electrical needs confidently. For one thing, our commercial services meet or exceed electrical safety codes and standards using premium components. And, we complete our work carefully and quickly out of respect for your time and your schedule.
Schedule your commercial electrical repair by contacting the pros at Right Touch Electrical
FAQs – Commercial Electrician Houston
Commercial electrical systems are complex, requiring the expertise of professional commercial electrician Houston to ensure their safe and efficient operation. At Right Touch Electrical, we're dedicated to providing businesses in Houston, TX, with top-quality electrical services, and we often encounter various questions regarding our commercial services. Here, we answer some of the most frequently asked questions to help you better understand our services and the importance of hiring a commercial electrician.
Q1: What distinguishes a commercial electrician from a residential electrician?
A: Commercial electricians specialize in working on electrical systems in commercial buildings, which are typically more complex than residential systems. They have the training and experience to handle the unique challenges of commercial electrical projects.
Q2: What types of services do commercial electricians provide?
A: Commercial electricians provide various services, including electrical system design and installation, maintenance, repairs, energy-efficient upgrades, emergency services, and more.
Q3: Can you handle large-scale commercial projects?
A: Yes, at Right Touch Electrical, we have the skills and resources to handle commercial projects of all sizes, from small shops to large office buildings.
Q4: Do commercial electricians assist in the design and planning of a new building's electrical system?
A: Absolutely! We often work closely with architects, engineers, and contractors in the design and planning phase of new commercial construction projects to ensure the electrical system meets the building's needs.
Q5: Do you provide emergency commercial electrical services?
A: Yes, we understand that electrical issues can arise anytime and disrupt your business operations. We offer emergency electrical services to resolve these issues quickly and minimize downtime.
Q6: Can a commercial electrician help improve energy efficiency?
A: Certainly. We can conduct energy audits, recommend energy-efficient lighting and equipment, and adjust your electrical system to improve energy efficiency and reduce costs.
Q7: Do you provide a warranty on your commercial electrical services?
A: Yes, we stand by the quality of our work and provide a warranty on our services. The specific terms can be discussed with our team during your consultation.
We hope these FAQs have provided some insights into our commercial electrical services. If you have further questions, don't hesitate to contact Right Touch Electrical in Houston, TX.