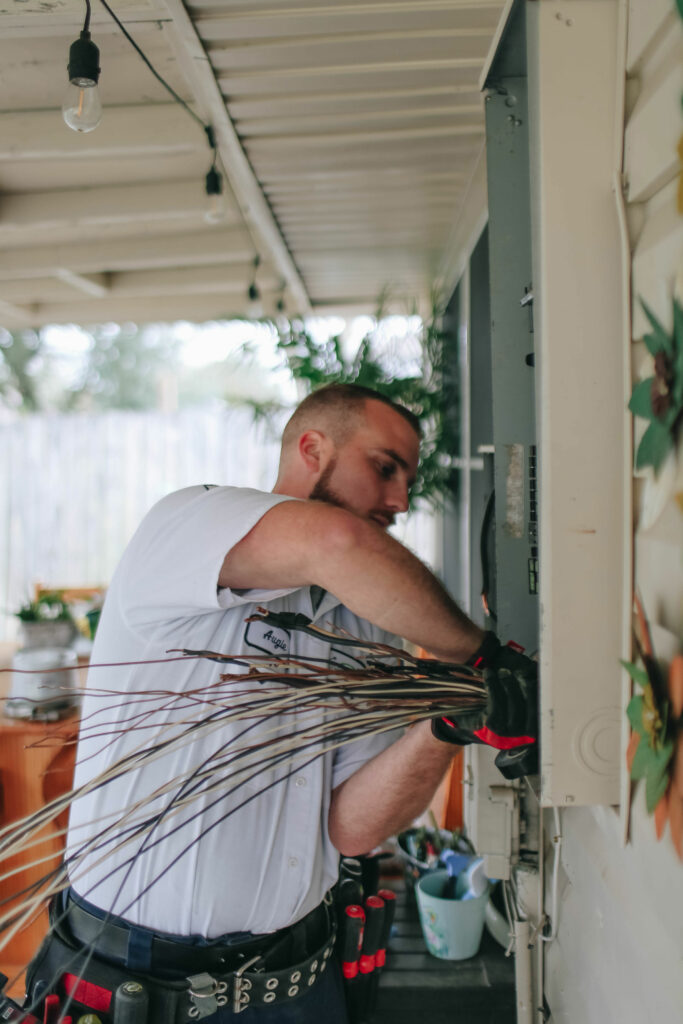 House Rewiring Right From The Start With Right Touch Electrical
Get the best whole house rewiring in Houston from Right Touch Electrical! Our team of experienced electricians is focused on providing quality, safe wiring services day and night. Wiring is the heart of your entire electrical system. Outdated or improperly connected wiring puts your home or business at risk of electrical fires and other hazards.
Whether you live in an older home with obsolete wiring or you discovered improper connections during a renovation, let Right Touch Electrical help you. We provide partial or whole-house rewiring for customers throughout the Greater Houston area. With electricians trained by the best in the industry, we ensure your wiring gets what's needed to help keep you safe.
Learn how the experts at Right Touch Electrical can help with your wiring issues or set an appointment: Call (281) 407-6199
Common Signs you might need new whole house rewiring in Houston
Regarding electrical safety in your home, being proactive is vital. An essential part of this process is knowing the common signs that you may need new electrical wiring. Right Touch Electrical, one of Houston, TX's leading electrical solutions providers, strives to help you recognize these warning signals early.
The following list outlines some common indicators that your electric wiring may need an update, which, if ignored, can lead to more severe, potentially hazardous situations. As always, if you notice any of these signs, it's essential to contact a professional like Right Touch Electrical for a thorough inspection and assessment.
Frequent Tripping of Circuit Breakers: If your circuit breakers are constantly tripping, it could be a sign that your electrical system is overwhelmed and can't handle the electricity you're using.
Flickering or Dimming Lights: If your lights flicker or dim when you turn on other appliances, it could indicate outdated or overloaded wiring.
Burning Smell or Sparks: If you notice a burning smell or see sparks when you use an outlet, it's a clear sign of a severe electrical issue that requires immediate attention.
Discolored, Scorching, or Smoking Outlets: These are severe signs that the wiring in your home is unsafe and needs immediate replacement.
Outdated or Aluminum Wiring: Homes wired more than 30 years ago may have outdated wiring systems that can't handle today's electrical demands. Also, aluminum wiring, often found in homes built between the mid-1960s and early 1970s, can be a fire hazard and should be replaced.
Frequent Need for Extension Cords: If you're using extension cords regularly, it suggests that your home doesn't have enough outlets to meet your needs. This could put stress on your electrical system.
Electrical Shocks: If you experience a shock when plugging in or touching an electrical appliance, it could be a sign of bad wiring.
Rodent Damage: Rodents can chew on wiring, causing it to become unsafe. If you've had a rodent problem, checking your wiring is wise.
At Right Touch Electrical, we identify and fix electrical wiring problems. If you notice any of these signs, contact us immediately for an inspection and potential replacement of your wiring. We prioritize your safety and comfort, delivering high-quality, reliable, and efficient electrical solutions in Houston, TX.
Dangers Of Outdate Wiring In Your House
If your residential or commercial property was built decades ago, it's likely that you have issues with wiring. One of the most notorious wiring in older homes in the Houston area is aluminum wiring.
Aluminum wiring poses the following risks:
It deteriorates easily
The material rusts over time
It expands and contracts when it's hot
It's prone to overheating and electrical fires
Request whole-house rewiring in Houston
Unsure if you have obsolete wiring? Our professional Houston electricians can provide you with a thorough electrical inspection to see if your home has aluminum wiring or other potential issues. Once identified, we can rewire your home with copper wiring—the "gold standard" in whole house wiring in Houston because of its safety and superior conductivity.
Choosing Right Touch Electrical for Whole House Rewiring in Houston, TX
In the sprawling metropolis of Houston, TX, where modern amenities meet rich history, the electrical needs of homes can vary widely. Whether you reside in a vintage home or a contemporary abode, ensuring the safety and efficiency of your electrical system is paramount. Right Touch Electrical is the trusted choice for whole house rewiring in Houston, blending expertise with an unwavering commitment to customer satisfaction.
Here are the compelling reasons to entrust your whole house rewiring in Houston to Right Touch Electrical:
Decades of Expertise: With years of experience serving the Houston community, Right Touch Electrical has honed its skills, ensuring top-tier service for every rewiring project.
Licensed and Insured: Our team comprises licensed electricians who adhere to the highest industry standards. Plus, our comprehensive insurance provides peace of mind to homeowners.
Transparent Pricing: At Right Touch Electrical, we believe in honesty. We provide upfront pricing with no hidden fees, ensuring you know exactly what to expect.
Cutting-Edge Equipment: We invest in the latest electrical equipment and technology, ensuring efficient and safe rewiring for your home.
Safety First: Our primary concern is the safety of your home and family. Our rewiring processes adhere to the strictest safety guidelines, ensuring a hazard-free environment.
Tailored Solutions: We understand that every home is unique. Our team offers customized rewiring solutions tailored to your home's specific needs and architecture.
Prompt and Reliable: We value your time. Our team is punctual, and we ensure to complete every project within the stipulated timeframe without compromising quality.
24/7 Customer Support: Electrical issues can arise anytime. Right Touch Electrical offers round-the-clock customer support, ensuring you're never left in the dark.
Positive Customer Reviews: Our reputation in Houston is built on trust and positive feedback. Numerous homeowners vouch for our impeccable service and professionalism.
Eco-Friendly Practices: In our commitment to the environment, we employ eco-friendly practices and materials, ensuring your home's rewiring is sustainable.
For residents of Houston, TX, choosing Right Touch Electrical for whole house rewiring in Houston is a testament to quality, safety, and excellence. Let us illuminate your home with our expertise and dedication.
Get started today. Contact Right Touch Electrical at (281) 407-6199
FAQs – Whole House Rewiring in Houston, TX
At Right Touch Electrical, we understand that whole house rewiring can be daunting for many homeowners in Houston, TX. Over the years, we've encountered numerous questions about the process, and we're here to provide clarity.
Here are some frequently asked questions and our expert answers:
Q1: What is whole house rewiring in Houston?
A: We replace all the old electrical wires in your home with new, up-to-date wiring to ensure safety and efficiency.
Q2: How long does the rewiring process take?
A: Typically, we complete a whole house rewiring in Houston within 3-10 days, depending on the home's size and complexity.
Q3: Is it safe to stay in my home during the whole house rewiring in Houston?
A: While we prioritize safety, we often recommend that homeowners find alternative accommodations during the process for comfort and convenience.
Q4: How do I know if my house needs whole house rewiring in Houston?
A: Consider a rewiring assessment if you experience frequent electrical issues, have outdated wiring, or live in an older home.
Q5: Will you damage my walls during the process?
A: We always aim to minimize disruption. While some wall access is necessary, we take measures to limit damage and can assist with patching afterward.
Q6: Is whole house rewiring in Houston expensive?
A: The cost varies based on the home's size and specific needs. We provide transparent quotes upfront, ensuring no hidden surprises.
Q7: What are the benefits of whole house rewiring in Houston?
A: By choosing to rewire, you're investing in safety, increasing your home's value, and ensuring efficient electrical performance for years.
Q8: Do you offer any warranties or guarantees?
A: Absolutely! We stand by our work and offer warranties on our whole house rewiring in Houston, giving you peace of mind.
Q9: How do I schedule an assessment with Right Touch Electrical?
A: Give us a call or visit our website. We're always ready to assist Houston residents with their electrical needs.
Q10: Are your electricians licensed and insured?
A: Yes, all our electricians are licensed, trained, and insured, always ensuring top-quality service and safety.
We hope this clears up any uncertainties about whole house rewiring in Houston. If you have more questions, don't hesitate to reach out. At Right Touch Electrical, we're always here to help Houston homeowners make informed decisions.