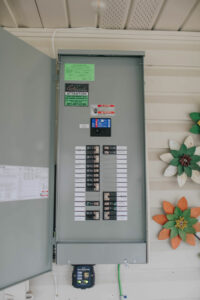 Trust Right Touch For Safe & Reliable Electrical Installation & Upgrades
The electrical system in your home or business is equipped with circuit breakers or fuses in the electrical panel. Their job is to protect the wires in each circuit which prevents the system from overloading. An incorrectly wired or older electrical panel not only poses the threat of electrical shock, but could also result in an electrical fire. Whether you need repair, new installation, or fuse replacement Houston, the licensed and insured electricians at Right Touch Electrical can get the job done with The Master's Touch.
Schedule fuse or circuit breaker repair or replacement in Houston, TX with Right Touch Electrical. Call (281) 407-6199 or click here to contact us online.
Right Touch services for breakers and fuse replacement Houston include:
Circuit breaker & fuse upgrades – If your circuit breaker or fuse is straining to accommodate the power in your home, it could be time for an upgrade. Upgrades are also recommended if you're planning to add major electrical appliances.
Blown fuse replacement – A blown fuse usually prevents a hazard by shutting off the power. However, if a fuse has blown, it should be replaced right away. A Right Touch electrician can replace it or upgrade your system into a circuit breaker.
Breaker box repair – A circuit breaker usually only trips due to a short circuit, ground issues or power overload. If a breaker continues to trip, call Right Touch for repair or replacement.
Arc-fault breaker replacement – An arc-fault is a dangerous issue that occurs when an electrical panel is damaged/overheated or there are poor wiring connections. Fortunately, we can install arc-fault breakers to keep you safe.
Disconnect switch installation – A disconnect is used to shut off power from a location outside your home or business, in case of an emergency. Whether you need one installed or replaced, Right Touch Electrical can help.
What's the difference between circuit breakers & fuses?
The terms breakers and fuses are often used interchangeably. They are actually two different things. Breakers and fuses serve the same purpose: protecting the electrical circuits from hazards. However, they differ mainly on how they interrupt or stop the flow of electricity when a problem occurs. Fuses usually melt when interrupting power and need to be replaced immediately.
Circuit breakers, on the other hand, trip or stop when preventing power overloads and just need to be reset. Many people believe that breakers are safer than fuses, but this is actually far from the truth. Both breakers and fuses can protect your property as long as they are properly installed.
If you're unsure about the current condition of your system, A Right Touch professional electricians can perform a safety inspection to determine if you need repair circuit breaker replacement in Houston, TX. Additionally, if your fuse has blown and you want to replace it with a circuit breaker instead, our specialists can handle that for you as well.
Reliable solutions for your Fuse Replacement Houston
Our circuit breaker and fuse experts do not work on commission. That means we won't try selling you services you don't need. Contact Right Touch today. We'll send a professional, uniformed, certified electrician to your door who is trained to handle any project, regardless of size.