Quality Bellaire Electrical Services from Experienced Electrical Contractors
In the modern world, we rely on electricity for virtually every important element of our daily lives. Electricity powers our homes, allows us to communicate, provides us with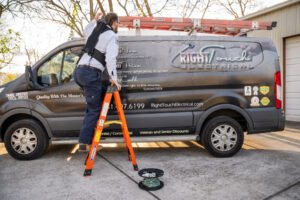 transportation, and gives us endless comfort, entertainment, and convenience. Because of our increased reliance on electricity, the grid is now more overloaded than ever—or to put it another way, you can't have more electricity without more electrical problems. This is why it's important to hire an electrician for all Bellaire electrical services that knows how to solve those problems, and understands the many demands of your electrical system.
Luckily, that's exactly what you get when you hire Right Touch Electrical. Our Bellaire electricians are trained to provide all the installations, repairs, and maintenance your electrical system needs. Since 2013, we have been going above and beyond to earn the trust of our community, and are known for delivering five-star results to each and every customer. Our fully licensed and certified team is equipped with the tools and technology to handle a wide range of properties. And with our commercial electrical services, you can now get the same level of quality work for your home and your business.
Make the right choice for your electrical system, and contact our Bellaire electrician today at (281) 407-6199.
Offering A Full List of Bellaire Electrical Services
Unlike some home service tasks, DIY electrical work is never a good idea. Attempting to make electrical repairs on your own is extremely dangerous, and may result in serious injuries to yourself, as well as extensive damage to your electrical system. Fortunately, our Bellaire electrical team knows how to provide work that is completely safe and up to code. Our services are fast and efficient, without ever sacrificing attention to detail. Stop worrying about your electrical system, and hire our professionals at Right Touch Electrical the next time your lights are flickering or your power is out.
Our Bellaire electrical services include:
Surge protection services
Outlet repairs & installation
Switch repairs
Wiring remodels
Safety inspections & updates
High-voltage line services
Light fixture installations & repairs
Data cable installation
What To Look For In An Electrician
1. Are they available 24/7? – Don't settle for another Bellaire electrician that's going to make you wait until business hours to solve your problem. We're always at the ready because we know electrical issues don't wait for business hours to happen, so we don't wait for business hours to help you.
2. Stellar reviews – Having provided Bellaire electrical services for as long as we have, we've collected a ton of rave reviews. Click here to read through our reviews at your leisure and give us a call today to see why our customers love us so much.
3. An illuminating photo gallery – If you want to get an in depth look into our electrical services, visit our photo gallery here. They say a picture is worth a thousand words, so then an entire gallery should be worth more than that.
4. How about video? – The 21st century is all about videos. If our photo gallery isn't enough for you make sure to take a chance tovisit our Video Center here to get more details as to how our electrician team can help you.
5. Awards and certifications – Not only are all our electricians licensed, bonded and insured but we're a BBB Pinnacle Award Winner for two years in a row and will wow you too if you give us the chance.
What Can a Master Electrician Do for Me?
At Right Touch Electrical, we take our name seriously. We are the right choice because our professional team is backed by over 50 years of combined experience. We are the right choice because our electricians receive ongoing instructions to ensure they stay up-to-date on all relevant laws and safety regulations. We're also the right choice because we've been recognized by the Better Business Bureau Awards for Excellence on four separate occasions. But most importantly, we're the right choice because we care about our customers, and providing them with exceptional electrical service in Bellaire and the surrounding areas.